My Music
Below is a selection of my solo recording work. The selection includes original music composed by me, cover versions, parodies, and rearrangements. They are presented in reverse chronological order, with the most recent recordings first.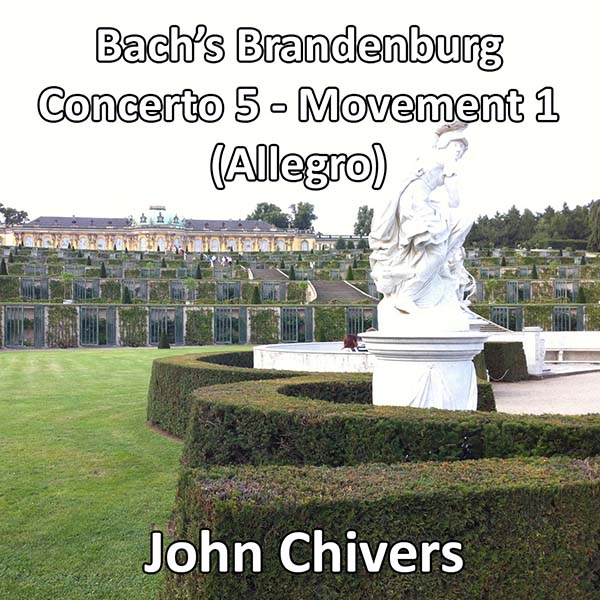 Brandenburg Concerto No. 5, Part 1 (Allegro)
Type: Interpretation
A slightly different musical project than usual, this is a rock arrangement of Johann Sebastian Bach's Brandenburg Concerto No. 5, Part 1 (Allegro) - BWV 1050.2. I can't take the credit for performing all this. I took a MIDI file version (details below) and then assigned the various tracks to different VST virtual instruments in Cubase 11. That in itself took a while. Then I added an original bass pedal part to the solo section towards the end. Next, came the hard work. I went through the whole thing section by section and added my own drum part, performed on an Alesis Crimson 2 electric drum kit, triggering Superior Drummer 2 samples. That was rather a labour of love, working through the piece and devising sympathetic parts which served the particular section, and frankly was the fun challenge in this project. Finally, I added the Roland CR-78 drum machine section. So, a fair bit of effort went into it, given it's ten minutes long, even though I can't take credit for performance of the main parts. That credit goes to Michel Rondeau. Original MIDI file is at https://imslp.org/wiki/Brandenburg_Concerto_No.5_in_D_major%2C_BWV_1050_(Bach%2C_Johann_Sebastian) and its use is covered by the Creative Commons Licence 3.0 (https://creativecommons.org/licenses/by/3.0/).
Song List